MBS - The Clear Picture - Pediatric
. This course focuses on the pediatric swallowing anatomy (under 5 years old). For adult focus see
MBS: The Clear Picture
.
This course is designed to provide Speech and Language Pathologists and Occupational Therapists involved in treating pediatric dysphagia with the background necessary to accurately observe Modified Barium Swallow (MBS) studies for the assessment of swallowing disorders. This information, combined with the therapists knowledge and skills for management of feeding and swallowing disorders, will provide the course participant with a stronger basis for a comprehensive examination of the pediatric dysphagic patient. The information provided in the course should also facilitate professional communication between the swallowing professional and other health care professionals involved in the treatment of dysphagia.
MBS: The Clear Picture - Pediatric includes a series of actual MBSs taken from various facilities across the United States and represent what a therapist might come across in their actual work environment. Therefore, the quality and clarity of the videos vary depending on the equipment used at that particular facility. It is also important to note that pediatric Modified Barium Swallow Studies are often limited by sensory processing difficulties, motor/postural disorders and/or behavioral components that impact the ease of viewing the MBS.
NOTE: The course is delivered via the internet. Computer and internet access is therefore required.  The course takes approximately 12 hours to complete. 
If you are taking the VitalStim Therapy Specialty Program do not register for this course, it is already included in the VitalStim registration.

AOTA Classification Codes
Domain of OT: Activity Demands
Course Level:
Introductory
Course Requirements:
Computer with internet and working speakers/sound are required for this course.
Course must be completed within 30 days of activation (activate course within 6 months of purchase).
An online multiple-choice quiz (80% passing score) and submission of an online evaluation form are required for successful completion.
A certificate of completion will be available to print immediately after course is successfully completed.
SLPs - ASHA CEUs may be obtained by completing the online ASHA form and checking the "Report to ASHA" box.
Course Objectives
Upon successful completion of this course, participants will be able to:
Demonstrate understanding of the normal anatomy of the musculature, skeleton and neurological structures relevant to the premature through adult swallow
Demonstrate understanding of normal muscle physiology involved in the swallowing mechanism
Describe and identify normal anatomical features visible on an MBS
Describe and recognize common abnormal findings on an MBS
Describe the procedure/protocol to perform a standard MBS
---
Course Instructor(s)

Karin Mitchell
M.A. CCC-SLP
Karin Mitchell is a worldwide respected Speech Language Pathologist specializing in the care and treatment of pediatric feeding and swallowing, developmental care of the medically fragile infant and child, and pediatric traumatic brain injury. Her love of teaching and helping others drives her to create and deliver fun and empowering continuing education courses across the nation and internationally. Areas covered are Developmental Care in the NICU, Cue Based Feeding, pediatric feeding and swallowing analysis and treatment, including the use of VitalStim, swallow studies, enhancing decision making and clinical analysis, breast feeding the medically fragile infant and child, and developmental milestones supporting feeding skill acquisition. Beginning her practice in 1995, Karin sought out learning opportunities and creative ways to teach others. She now serves as a lead therapist for the NICU and Feeding Teams at CHOC Children's Hospital in Orange, CA. With a clinical practice formed by a strong theory base in NDT and SI therapies, Karin is also NOMAS trained and VitalStim certified. She provides ongoing education in-services and hands-on labs for appropriate developmental care, positioning, handling, and feeding skills for clinical staff including medical residents, nurses, physical therapists, occupational therapists, and speech pathologists. Karin was a key player in the development of unit protocols and care plans for evidence-based developmental care in the highly specialized Small Baby Unit (ELBW) at CHOC which includes an ongoing education series required by all medical and support personnel. She is an active committee member for multiple qualities of care committees including Skin to Skin Care, Developmental Care, Infant Driven Feeds, Breast Feeding Coalition, Palliative Care, Neuro NICU Team, Trauma Team, and Family Centered Care. A dedicated leader, Karin devotes much of her time to the support and development of clinicians, serving as a mentor committed to building therapist's skills in clinical analysis and therapeutic effectiveness with medically fragile patients. She is a strong advocate for her patients and their families and speaks at local associations, community centers, local universities, and school districts to support medically fragile infants and children.

Financial Disclosure: Karin receives an honorarium from CIAO for the presentation of this course. She also receives royalties for the purchase of her recorded course(s)
Non-financial Disclosure: Karin uses VitalStim in her clinical practice.

---
Course Agenda
60 Minutes
Lesson 1: The Oral Stage
60 Minutes
Lesson 2: The Pharyngeal Stage
60 Minutes
Lesson 3: The Esophageal Stage
30 Minutes
Anatomy & Physiology Exam
120 Minutes
Assignment, instruction, and communication with online instructor
60 Minutes
Lesson 4 Signs Observable during Oral Phase
60 Minutes
Lesson 5 Signs Observable during Pharyngeal Phase
60 Minutes
Lesson 6 Signs Observable during Esophageal Phase
120 Minutes
Assignment, instruction, and communication with online instructor
---
Contact hours pre-approved for:
12.0 Hours
CIAO is an ASHA Approved Provider #AAWA (1.2 ASHA CEUs) bubble sheet submission required
ASHA CE Provider Approval and use of the Brand Block does not imply endorsement of course content, specific products, or clinical procedures.
CIAO is an AOTA Approved Provider #4119 (1.2 AOTA CEUs)
This course meets PDU requirements for NBCOT (12 PDUs)
As an IACET Authorized Provider, CIAO offers CEUs for its programs that qualify under the ANSI/IACET Standard
CIAO is authorized by IACET to offer 1.2 CEUs for this program
---

---
The assignment of AOTA CEUs does not imply endorsement of specific course content, products, or clinical procedures by AOTA.

---
Introductory Level
1.2 ASHA CEUs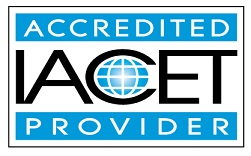 ---
CIAO is accredited by the International Association for Continuing Education and Training (IACET). CIAO complies with the ANSI/IACET Standard, which is recognized internationally as a standard of excellence in instructional practices. As a result of this accreditation, CIAO is accredited to issue the IACET CEU.

---
CIAO is recognized on the NBCOT Provider Registry (meets PDU requirements for NBCOT)