Course Description
This hands-on course introduces the teachings of the late Professor Vladimir Janda MD. Janda was a pioneer in muscle imbalances and chronic musculoskeletal pain. He identified specific clinical "crossed syndromes" of muscular imbalance, focusing more on global function than isolated structures. This workshop will describe the scientific basis for Janda's approach, as well as a systematic evaluation and treatment of functional pathology. An evidence-based approach to the conservative management of common musculoskeletal conditions will be presented for upper and lower quarter muscle imbalance syndromes.
Additional Details
• Participants must be licensed healthcare providers; course content is not intended for use outside the scope of practice of the participant's license or registration
• Attendees must wear loose, comfortable clothing that can be removed for access during assessment
• All attendees assume the risk of participating in the workshop, including discussion of personal medical issues and possible injury from participating in the exercises
• Videotaping is not allowed during the lectures
You can get the book
Assessment and Treatment of Muscle Imbalance
when you register for this course. Choose "with book" in the Price dropdown menu.
Course Objectives
Upon successful completion of this course, participants will be able to:
Determine the role of the sensorimotor system, chain reactions, and muscle balance in chronic pain syndromes
List the components of functional assessment for chronic pain, including posture, gait, and movement patterns
Indicate specific intervention techniques for chronic pain syndromes
Identify management strategies for muscle imbalance syndromes
Demonstrate systematic assessments of functional pathologies
Provide current evidence to support the Janda approach

08:00 - 09:30
Neuromuscular Basis of Muscle Imbalance: Lecture
09:45 - 11:30
Neuromuscular Basis of Muscle Imbalance, cont: :Lecture
12:15 - 03:00
Assessment of Imbalance: Lab
03:15 - 05:15
Functional Assessment: Lab
08:00 - 09:00
Functional Treatment Progression: Lecture
09:00 - 10:15
Treatment Techniques: Lab
10:30 - 12:00
Treatment techniques, cont: Lab
12:45 - 02:00
Treatment techniques, cont: Lab
02:00 - 03:00
Management of crossed syndromes: Lecture
Contact hours pre-approved for:
14.0 Hrs (1.4 CEUs) PT/PTAs, OT/COTAs, DCs unless otherwise noted below
CIAO is an AOTA Approved Provider #4119 (OT/COTAs)
CIAO is an IACET Approved Provider
This course meets PDU requirements for NBCOT (14 PDUs)
CIAO is an Illinois Approved Provider for PT/PTA Continuing Education
CIAO is recognized as an Approved Provider for PT/PTAs by the NYSE Dept State Board for PT
This activity is provided by the TX Board of PT Examiners Accredited Prov. #1602009
This activity meets the continuing competence requirements for PT/PTA license renewal in TX
14.0 Hrs for PT/PTAs in CA(CERS#12-30088-1), IL, KS, NY, TX(14 CCU)
16.5 Hrs for PT/PTA, OT/COTAs in FL (CP120819091, CE Broker#20-361564)
---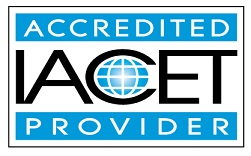 ---
CIAO is accredited by the International Association for Continuing Education and Training (IACET). CIAO complies with the ANSI/IACET Standard, which is recognized internationally as a standard of excellence in instructional practices. As a result of this accreditation, CIAO is accredited to issue the IACET CEU.

---
The assignment of AOTA CEUs does not imply endorsement of specific course content, products, or clinical procedures by AOTA.

---
CIAO is recognized on the NBCOT Provider Registry (meets PDU requirements for NBCOT)
Reviews
This is a new course, there are currently no reviews. Please check back. Thank you and have a great day, CIAO!