Course Description
This workshop offers the practicing clinician an opportunity to gain new knowledge and update existing skills in the area of application of electrotherapy and therapeutic ultrasound. Participants will leave the course with an evidenced-based approach to the dosing and application of electrical stimulation and ultrasound. The workshop will include hands-on laboratory sessions to reinforce the concepts and techniques discussed during the lecture portions of the program.

Appropriate Disciplines: ATs, OT/COTAs, PT/PTAs
Course Level: Introductory
Instructional Methods: Lecture, Demonstration, Hands-On Labs
Method of Assessing Student Learning: Observation of Lab Work

Participants should wear loose-fitting athletic clothing that allows access to the shoulder (e.g.t-shirt, tank top etc.)
Attendees will receive a course manual at check-in.


Richmar & Cornish Medical are sponsoring this event. They are providing the venue, all equipment and supplies for labs, and lunch for the attendees.

Course Location:
HYATT PLACE - AUSTIN/CEDAR PARK
1315 E NEW HOPE DR
CEDAR PARK, TX 78641

Parking is available at Hyatt Place
Lunch will be provided by Richmar & Cornish Medical
Course Objectives
Upon successful completion of this course, participants will be able to:
Identify common myths and errors in parameter selection and application of electrotherapy
Discuss elements of acute and chronic pain
Understand and apply electrotherapy terminology necessary to design safe and effective electrotherapy treatments
Dose and apply electrical stimulation based on stage of tissue healing and the desired therapeutic outcome
Choose appropriate electrotherapy treatments, waveforms and parameter selections to treat specific impairments
Administer electrotherapy treatments to modulate pain, reduce muscle spasm, retard the formation of edema, and improve muscle performance
Discuss application and dosing of therapeutic ultrasound
Examine the physiologic effects, indications, and contraindications related to the application of electrotherapy and ultrasound
Apply knowledge of indications, physiologic effects, contraindications, and contemporary research to deliver safe and effective electrotherapy and ultrasound treatments

Joe Gallo
DSc, ATC, PT
Dr. Joe Gallo earned his BS in Physical Education and Athletic Training and his Master's in Physical Therapy. He also holds a Doctor of Science degree in Physical Therapy. He currently serves as Director and Professor in the Salem State University Athletic Training Program. He also held faculty appointments in various physical therapy and physical therapist assistant programs in his over 20 year career as an educator. Dr. Gallo is currently a Certified Instructor for the VitalStim® Therapy Specialty Program teaching NMES for the treatment of dysphagia. He has taught over 300 continuing education workshops to rehabilitation specialists across the United States. Joe's research on electrophysical agents has been published in the Journal of Orthopaedic and Sports Physical Therapy, and the Chinese journal of Sportsmedicine. In addition to his teaching and research, Joe has also maintained clinical practice in a variety of settings throughout his career.

Financial Disclosures: Dr. Gallo receives an honorarium for speaking/teaching live courses through CIAO Seminars. He also receives royalties for the purchase of his recorded courses and the purchase of his Ultrasound book.
Non-Financial Disclosures: Dr. Gallo uses modalities in his clinical practice.

08:00 - 08:30
Registration/Check-In, coffee
08:30 - 10:00
Fundamental principles of electrotherapy
10:15 - 10:45
Neurobiology of pain
10:45 - 11:15
Electrotherapy for pain management
11:15 - 12:00
Pain management lab
12:00 - 01:00
Lunch (provided by Richmar)
01:00 - 01:45
Electrotherapy to improve muscle performance and ROM
02:45 - 03:45
Therapeutic Ultrasound
03:45 - 04:15
Therapeutic Ultrasound Lab
04:15 - 04:30
Wrap up - Q&A
Delivery VIA:
Live - Sponsored - This is a live course held by an affiliate organization in partnership with CIAO.
Contact hours pre-approved for:
6.5 contact hours
This Course Meets PDU Requirements for NBCOT (8.125 PDUs - Clinical Lab Assessment)
CIAO is a BOC Approved Provider #P2881 (ATs)
This program is eligible for a maximum of 6.5 Category A hours/CEUs. ATs should claim only those hours actually spent in the educational program.
CIAO is recognized as an Approved Provider for PT/PTAs by the NYSE Dept State Board for PT
CIAO is an Illinois Approved Provider for PT/PTA Continuing Education
This activity is provided by the Texas Board of PT Examiners Accredited Prov #2502009#TX
The assignment of Texas PT CCUs does not imply endorsement of specific course content, products or clinical procedures by TPTA or TBPTE
This activity meets continuing competence requirements for PT/PTA license renewal in TX
CIAO is a PT Approved Provider #BAP202310092 for the Oklahoma Medical Board. All PT courses for the 2022-2023 reporting period are approved.
CIAO is an Approved Provider for the Florida Board of Occupational Therapy
CIAO is a Rule Approved Provider for the Florida Board of Physical Therapy
Pre-Approved for:
6.5 Hrs. ATs (BOC Category A hours/CEUs)
6.5 Hrs. PT/PTAs in IL, OK(#BAP202310092), TX(APTA TX #2502009, 6.5 CCUs)
6.5 Hrs. Registered with CEBroker for OT/COTAs in AL, AZ, GA, LA, MS, SC, TN
7.0 Hrs. PT/PTAs and OT/COTAs in FL (CE Broker #20-532564)
7.8 Hrs. PT/PTAs in NY
Course meets requirements for:
OT/COTAs in AL, AK, AZ, AR, CA, CO, CT, DE, GA, HI, ID, IA, IN, KS, LA, ME, MD, MA, MI, MN, MS, MO, MT,
OT/COTAs in NE, NV, NH, NJ,, NY, NC, ND, OH, OK, OR, PA, RI, SC, SD, TN, TX, UT, VA, WA, WV, WY
---

---
CIAO is recognized on the NBCOT Provider Registry (meets PDU requirements for NBCOT)

---
CIAO Automatically reports to CE Broker for Florida Occupational and Physical Therapists and Assistants. Florida SLPs can either use the ASHA CE Participant Form (Bubble Sheet) or self-submit through CE Broker.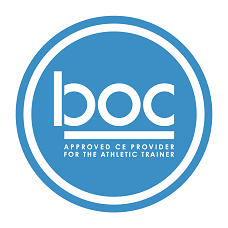 ---
CIAO is approved by the Board of Certification, Inc. to offer continuing education for Certified Athletic Trainers.
"Very good CEU , excellent instructor! "
- Clayton, MO / Nov 2022
"Course was very informative and overall presentation was interactive and engaging. "
- Clayton, MO / Nov 2022
"This was a fantastic interactive course. "
- Clayton, MO / Nov 2022
"Joe was so smart and taught me a lot, thanks!"
- Clayton, MO / Nov 2022
"I appreciated the new view of electric stim."
- Rolla, MO / May 2018
"I loved how hands on it was! Also the speaker was lively and it made the day go by faster."
- Albany, NY / May 2018
"Great course"
- Albany, NY / May 2018
"Excellent course presentation! For me it Took the fear out of selecting and using electrical modalities ."
- Albany, NY / May 2018
"Wonderful course. I learned a great deal and it was very interactive and engaging."
- Albany, NY / May 2018
"Excellent. LOved the hands on learning."
- Albany, NY / May 2018
"The seminar was very well presented and the instructor was interesting and dynamic in it's delivery, making sure to cover practical application after discussing technical information. "
- Albany, NY / May 2018
"The presenter was great, and I really enjoyed the hands on practice with the equipment!"
- Pine Bluff, AR / Apr 2018
"Great workshop!"
- Overland Park/, KS / Jul 2017
"The presenter gave us the knowledge to back up our clinical judgements so I can practice modalities in away that supported my clinical judgements. "
- Overland Park/, KS / Jul 2017
"Very good class. Thank You very much!"
- Dallas/Carrollton, TX / Feb 2017
"Great course. Speaker very knowledgeable."
- Dallas/Carrollton, TX / Feb 2017
"Good course work with detailed explanation."
- Dallas/Carrollton, TX / Feb 2017
"Although I feel as though I would still prefer some supervision during my first few treatment sessions using modalities; I felt as though the course was very informative. The instructor was very knowledgeable and willing to take the time to ensure all participants understood the material. "
- Dallas/Carrollton, TX / Feb 2017
"Very informative and very knowledgable instructor"
- Dallas/Carrollton, TX / Feb 2017
"Great training. Very innovative. "
- Phoenix, AZ / Jul 2016