Course Description
(*Houston, TX attendees please scroll down for more information)
TWO WAYS TO ATTEND:
Attend as part of the LIVE STUDIO AUDIENCE in Gulf Breeze, Florida - Studio audience seats are limited - so register today!
Attend via LIVE STREAM from anywhere around the world. Live stream participants will login to access the event from their computer.
NOTE:
This live event is streamed in real time. 
Course agenda is in Central time, please adjust for your time zone
Registrants who attend the live broadcast will be able to interact with instructor.
All registrants will have access to the broadcast recording for 14 days.
A group may view the course together, however each attendee must be individually registered in order to receive CE credit.
CEUs:
SLPs - this course is registered with ASHA as Blended Learning. ASHA CEUs may be earned by attending live, viewing the recording, or a combination of both.
OT/PTs - Participants who need live hours for state license renewal must attend in real time yet, will still have access to the recording for 14 days.
COMPLETION REQUIREMENTS:
Attend/view entire course
Pass multiple choice quiz (80% min score)
Complete online course evaluation
The range of function in older children with "hypotonia" varies greatly. Hypotonia can impact function greatly or slightly. In this introductory course, the participants will learn through lecture, labs and videos intervention ideas for promoting play and function in older children (3-13 years). The intervention ideas will be based on NDT and SI approaches as well as some ideas from the sports medicine arena. This course will include postural control activities and interventions, activities to integrate ATNR and STNR reflexes, assistive devices for upright mobility, as well as visual motor activities and midline crossing skills required for higher level gross and fine motor skills. Speech therapists will learn the importance of postural alignment and support for breath control as well as play ideas to promote language and communication through play.
Appropriate Disciplines: OT/COTA, PT/PTA, SLP/SLPA
Course Level: Introductory
Assessment Method: Quiz, Q&A and Self-Assessment
**Please note the course September 17, 2023 in Houston, TX is LIVE, IN-PERSON course (NOT LIVESTREAM).**

Course Event Address:
Texas Children's Hospital Feigin Center 1102 Bates Avenue Houston, TX 77030

Mandatory Mask Policy


Course Objectives
Upon successful completion of this course, participants will be able to:
Define and explain the primary and secondary impairments related to low muscle tone and its impact on the older child
Identify factors impacting the progression of skills as the child ages.
Demonstrate therapeutic intervention to improve visual motor skills and postural control
Demonstrate three activities to promote a greater variety of movement patterns.
Identify how different sensory activities impact the arousal level of the child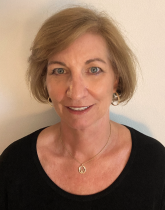 Kristin Ibach Owen
PT
Kris Owen, PT is a graduate from UNC-CH with a BA in Psychology and a graduate of Emory University with a MS in Physical Therapy. Although Kris started in therapy as a sports medicine patient while playing on the UNC volleyball team, she has worked exclusively with pediatrics since her graduation from Emory. Kris has worked in out-patient settings throughout her career and has started her own company, Intentional Play, Inc., in 2017. Kris completed her 8-week NDT training with Judith Beirman, PT and has attended the level one SI mentorship at The STAR center with Lucy Jane Miller, OTR. As the lead therapist on The Down Syndrome Clinic at Hope Haven Children's clinic in Jacksonville, Fl. Kris has had 17 years of assessment and treatment of children with Down syndrome. Also a TLP provider with Advanced Brain Technologies, Kris is also trained in kinesiotaping and Electrotherapeutic Point Stimulation. Kris is blessed to have a profession which fits her personality while helping children and families enjoy the lives they have been given.
Financial Disclosure: Kristin receives an. honorarium for speaking/teaching live courses through CIAO Seminars. She also owns her own company Intentional Play,
Inc.,
Non-financial Disclosure: No relevant non-financial relationship exists.
08:00 - 09:30
Basic review of hypotonia and special considerations for the older child. Overview of NDT and SI approaches
09:45 - 11:30
Treatment principles and considerations for the older child
12:30 - 01:30
Impact on postural control weakness on function
01:30 - 02:30
Functional compensations and treatment ideas for sitting, standing and gait/LAB
02:45 - 04:00
Impact of Body Awareness, movement patterns and higher-level skills
04:00 - 04:30
external supports to facilitate alignment and activation/LAB
04:30 - 04:45
Question and Answer
Delivery VIA:
Live By Request - This course is available to come to you! Contact us to see how easy that can be. mail@ciaoseminars.com
Live Stream - This course is offered from our Live Stream studio. Watch and interact with the instructor from wherever you are or join us as part of the studio audience in sunny Gulf Breeze, FL. Included with each Live Stream registration is access to the course recording for the 14 days immediately following the broadcast.
Contact hours pre-approved for:
7.0 hours
CIAO is an ASHA Approved Provider (7 ASHA CEUs) bubble sheet submission required
ASHA CE Provider Approval and use of the Brand Block does not imply endorsement of course content, specific products, or clinical procedures.
CIAO is an AOTA Approved Provider #4119 (OT/COTAs)
This course meets PDU requirements for NBCOT (7 PDUs)
CIAO is recognized as an Approved Provider for PT/PTAs by the NYSE Dept State Board for PT
CIAO is an Illinois Approved Provider for PT/PTA Continuing Education
This activity is provided by the TBPTE Accredited Prov. #22502009#TX
This activity meets the continuing competence requirements for PT/PTA license renewal in TX
The assignment of Texas PT CCUs does not imply endorsement of specific course content, products or clinical procedures by TPTA or TBPTE
The Physical Therapy Board of California recognizes CIAO Seminars as an Approval Agency to Approve Providers Offering Continuing Competency Courses
The Physical Therapy Board of California has determined that CIAO meets the standards set forth in section 1399.95 of the CA Code of Regulations
CIAO is an Approved Provider for the Florida Board of Occupational Therapy
CIAO is a PT Approved Provider #BAP202310092 for the Oklahoma Medical Board. All PT courses for the 2022-2023 reporting period are approved.
Pre-Approved for:
7.0 Hrs PT/PTAs in AR, CA (CIAO21-30), IL, TX (APTA-TX #2502009TX for 7 CCUs)
8.4 Hrs PT/PTAs in NY
8 Hrs. OT/COTAs in FL (CE Broker #20-872654)
---

---
The assignment of AOTA CEUs does not imply endorsement of specific course content, products, or clinical procedures by AOTA.

---
Introductory Level
0.7 ASHA CEUs

---
CIAO is recognized on the NBCOT Provider Registry (meets PDU requirements for NBCOT)

---
CIAO Automatically reports to CE Broker for Florida Occupational and Physical Therapists and Assistants. Florida SLPs can either use the ASHA CE Participant Form (Bubble Sheet) or self-submit through CE Broker.
"Well summarized descriptions of NDT and SI principles. Appreciated the emphasis on always asking yourself "why" to consistently assess what you are doing, how the child is responding and what can or need to do differently. Always searching for the underlying cause that is impacting functional skills."
- Live Streaming or Studio Audience, FL / Jul 2021
"Liked suggestion of books and equipment/tools."
- Live Streaming or Studio Audience, FL / Jul 2021
"Engaging and intelligent presenter!"
- Little Rock, AR / Jun 2019
"Awesome, engaging, interacting, and educational course!"
- Little Rock, AR / Jun 2019
"Presenter was awesome! Very engaging!"
- Little Rock, AR / Jun 2019
"Kris is an excellent speaker. Her knowledge of the subject is phenomenal. She walked into a group that needed her energy and humor to have a wonderful learning experience."
- Little Rock, AR / Jun 2019