Course Description
Effective dysphagia therapy is highly dependent on the understanding of the anatomy and physiology of the swallow. This course will provide a better insight and understanding of the normal anatomy of the swallow and target structural components of a deficient swallow. This is not your typical online course! Through online MBS videos, detailed anatomical drawings and various site links participants will identify the anatomical landmarks, key functional aspects and neurological highlights involved in the oral, pharyngeal and esophageal stages of the swallow.
Course Requirements:
Computer with internet and working speakers/sound are required for this course.
Course must be completed within 30 days of activation (activate course within 6 months of purchase).
An online multiple-choice quiz (80% passing score) and submission of an online evaluation form are required for successful completion.
A certificate of completion will be available to print immediately after course is successfully completed.
SLPs - ASHA CEUs may be obtained by completing the online ASHA form and checking the "Report to ASHA" box.
AOTA Classification Codes
Domain of OT: Areas of Occupation, Context and Environment
Course Objectives
Upon successful completion of this course, participants will be able to:
Identify normal anatomy of the musculature, skeleton and neurological structures relevant to the swallow
Identify normal muscle physiology involved in the swallowing mechanism
Describe and identify normal anatomical features visible on an MBS

Yorick Wijting
PT, DPT
Yorick received his Physical Therapy degree in the Netherlands and his DPT at the University of St. Augustine, Florida. He has extensive training and practical experience in biophysical agents and teaches nationally and internationally to medical professionals on their therapeutic use. Yorick has been instrumental in developing the use of electrical stimulation by Speech Language Pathologists in the treatment of dysphagia. Yorick currently lives in California and runs his private practice in Gilroy, CA.

Financial Disclosure: Yorick receives honoraria from CIAO Seminars for the presentation of his live course(s) and royalties for the sale of his recorded course(s). Yorick is the author and an instructor for the VitalStim Therapy Specialty Program.
Non-Financial Disclosure: no relevant relationships exist


60 Minutes
Lesson 1: The Oral Stage
60 Minutes
Lesson 2: The Pharyngeal Stage
60 Minutes
Lesson 3: The Esophageal Stage
30 Minutes
Anatomy & Physiology Exam
Delivery VIA:
Online - This course is offered in an online, on demand format.
Club CIAO - Club CIAO: This course is also part of Club CIAO, our all-you-can-eat buffet of online courses for one low price. Club CIAO Members also receive 25% off of all Live Stream courses!
Contact hours pre-approved for:
4.0 Hours
CIAO is an ASHA Approved Provider #AAWA (0.4 ASHA CEUs) bubble sheet submission required
CIAO is an AOTA Approved Provider #4119 (0.4 AOTA CEUs)
This course meets PDU requirements for NBCOT (4 PDUs)
As an IACET Authorized Provider, CIAO offers CEUs for its programs that qualify under the ANSI/IACET Standard
CIAO is authorized by IACET to offer 0.4 CEUs for this program
CIAO is an Illinois Approved Provider for PT/PTA Continuing Education
CIAO is recognized as an Approved Provider for PT/PTAs by the NYSE Dept State Board for PT
This activity is provided by the Texas Board of PT Examiners Accredited Prov #2202009#TX
This activity meets continuing competence requirements for PT/PTA license renewal in TX
The assignment of Texas PT CCUs does not imply endorsement of specific course content, products, or clinical procedures by TPTA or TBPTE
This course is approved by the CA Board of OT for Advanced Practice: 4.0 Hours for Swallowing CABOT#25-S7
Approved for:
4.0 Hours PT/PTAs in AR, IL, MD, NM, NY, TX(4.0 CCUs)
4.5 Hours PT/PTAs in FL (CE Broker #CE21-166172)
4.0 Hours OT/COTAs in CA(course #25-S7), FL(CEB#20-166172)
---

---
The assignment of AOTA CEUs does not imply endorsement of specific course content, products, or clinical procedures by AOTA.

---
CIAO is recognized on the NBCOT Provider Registry (meets PDU requirements for NBCOT)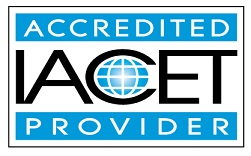 ---
CIAO is accredited by the International Association for Continuing Education and Training (IACET). CIAO complies with the ANSI/IACET Standard, which is recognized internationally as a standard of excellence in instructional practices. As a result of this accreditation, CIAO is accredited to issue the IACET CEU.

---
This course is offered for 0.4 ASHA CEUs (Introductory level, Professional area)
"GREAT COURSE!"
- Delray Beach , FL / May 2022
"This was such a helpful refresher course for the anatomy of swallowing! I love writing it down. "
- White Plains, NY / Apr 2022
"This is a great anatomy course! We all need a refresher from time to time on all the innervations and muscles of the swallowing mechanism."
- Lees Summit, MO / Apr 2022
"Information provided was extremely helpful. Great review."
- LEO, IN / Feb 2022
"Loved the course. Was very thorough, was an amazing refresher on the anat and physio of swallowing. "
- Woodbridge, NJ / Jul 2021
"I like that it was self guided. "
- Gambrills, MD / Jul 2021
"excellent course very tough but I learned a lot"
- Medford, NY / Jul 2021
"thank you for the update"
- Caribou, ME / Jun 2021
"Wonderful course. Great overview with functional information to apply with everyday tasks. "
- Fort Collins, CO / May 2021
"This course provided a good review of foundations. "
- Salesville, OH / Mar 2021
"Excellent "
- Myrtle Beach, SC / Mar 2021
"Very good review with good, organized presentation."
- Hot Springs, AR / Dec 2020
"Very good course. Thank you."
- Johns Creek, GA / Oct 2020
"GREAT review!"
- Whiteville, NC / Sep 2020
"Great overall review of anatomy and musculature in the oral and pharyngeal cavities."
- McGregor , TX / Jun 2020
"I found this course as a great refresher!"
- Grand Rapids, MI / Mar 2020
"Very resourceful and applicable to the acute care and acute rehab setting I work in. "
- Marlton, NJ / Mar 2020
"Excellent refresher. Still have some confusion and questions, though expect to be addressed at live course. Thank you. "
- Charlottesville, VA / Jul 2019
"More anatomy pictures and animations would be helpful. "
- Idaho Falls , ID / May 2019
"This course provided a wonderful review of anatomy and physiology. Descriptions were well written and better able to understand. I would have liked to have access to larger pictures. The size of the pictures and videos did not increase. "
- Casey, IL / Apr 2019
"In general, the physiological application was extremely beneficial; anatomical landmarks were somewhat helpful but the functionality discussions were fantastic"
- Cincinnati, OH / Apr 2019
"Great course. I had already completed lesson 1 of the course before finding the printable course manual. It may be helpful to direct therapists to this prior to beginning the course."
- Jackson, MS / Feb 2019
"Thorough review of the swallowing musculature!"
- Redwood city, CA / Jan 2019
"A great review of anatomy and neurology. It has been years since I reviewed at this level of detail. Thank you! "
- Monroe, WA / Jan 2019
"Nice review of anatomy plus a lot of detail I didn't know."
- Reno, NV / Jan 2019
"very indepth course"
- Lake View, NY / Dec 2018
"LOVED the note-heavy content rather than a million videos paced at the speed of the instructor talking. I can read much faster than I can listen to a speaker so this cut things down to the nitty-gritty and was still extremely useful and informative. "
- Chesapeake, VA / Nov 2018
"This course was challenging, well structured and enjoyable."
- Battle Creek, MI / Sep 2018
"I thought the information was presented very well!"
- Cincinnati, OH / Sep 2018