Course Description
TWO WAYS TO ATTEND:
Attend as part of the LIVE STUDIO AUDIENCE in Gulf Breeze, Florida - Studio audience seats are limited - so register today!
Attend via LIVE STREAM from anywhere around the world. Live stream participants will login to access the event from their computer.
NOTE:
This live event is streamed in real time. 
Course agenda is in Central time, please adjust for your time zone
Registrants who attend the live broadcast will be able to interact with instructor.
All registrants will have access to the broadcast recording for 14 days.
A group may view the course together, however each attendee must be individually registered in order to receive CE credit.
CEUs:
SLPs - this course is registered with ASHA as Blended Learning. ASHA CEUs may be earned by attending live, viewing the recording, or a combination of both.
OT/PTs - Participants who need live hours for state license renewal must attend in real time yet, will still have access to the recording for 14 days.
COMPLETION REQUIREMENTS:
Attend/view entire course
Pass multiple choice quiz (80% min score)
Complete online course evaluation
This one day course will focus on utilizing Yoga and NDT techniques and philosophy for those children with neurological and/or developmental challenges. There are many benefits to everyone to incorporating Yoga into their daily routine. Individuals of all ages and abilities can benefit from a yoga practice. It engages every aspect of body and mind connection to include physical gains, organization of the sensory systems, and the connections within the brain. We will discuss and identify how the two theories can overlap, through participation in performing the poses, making adaptations for all levels/abilities, labs and video presentations. This course is appropriate for OT's, PT's, ST's, Educators and Developmental Specialists working in a variety of settings.
Yoga benefits for children, especially for those with special challenges:
Develop physical strength & flexibility
Increase active/passive range of motion
Enhance balance and focus
Increase bilateral integration and crossing midline
Improve concentration
Reduce hyperactivity
Cultivate confidence & self-esteem
Enhance self-control & relaxation
Increase cognitive &motor skills
Relieve/decrease stress
Appropriate Disciplines: OT/COTA, PT/PTA, SLP/SLPA
Course Level: Intermediate
Assessment Methods: Hands on Labs, Q&A and Self-Assessment on Evaluation Form
AOTA Classification Codes
Domain of OT: Activity Demands, Performance Skills
OT Process: Evaluation
Course Objectives
Upon successful completion of this course, participants will be able to:
Outline the core principles of yoga and yoga therapy
Explain the many benefits that yoga has to offer and how it relates to the principles of NDT
Identify the basic principles of NDT and how to incorporate general handling techniques to guide clients into different yoga poses when tone is present
Describe the importance of preparation of the body prior to performing yoga poses and how to activate the base of support and foundation for sitting/standing poses
Explain the importance of using the breath when moving in/out of poses along with several types of yogic breathing.
Determine postures to consider based on diagnosis for alerting, strengthening, elongating, and increasing bilateral integration.
Determine postures to avoid based on diagnosis for safety, alignment of the body, neck, circulation and respiration.

Nancy Marin
OTR/L, C-NDT, IYT
Nancy Marin, OTR/L, C-NDT, IYT, a 1983 graduate of Florida International University with a BS in OT, has over 30 years experience in Pediatrics. She is the owner/president of Occuplay, Inc. in Ponte Vedra Beach, Florida where she practices full time in both the private and natural environments settings, from Early Intervention through age 25. She is certified in Advance Baby Treatment through NDTA, Inc., certified Integrative Yoga Therapist, 200 hours, certified provider of The Listening Program- Bone conduction, Tomatis consultant and Reiki Master. Nancy's experience with special needs children includes private pediatric outpatient, preschool and home environments. Nancy has a true passion for working with neurologically involved children as well as those with Sensory Integrative Disorders and continues to seek out new ways to touch the lives of the children and families she works with.

Financial Disclosure: Nancy receives honoraria from CIAO for the presentation of her live courses and royalties for the sale of her recorded courses. Nancy receives income as the owner of Occuplay, Inc.
Non-financial Disclosure: There are no relevant relationships to disclose.



08:30 - 10:00
Core Principles of Yoga and Yoga Therapy
10:15 - 12:00
Understanding Importance of Breath Work
12:00 - 12:30
Lunch (on your own)
12:30 - 02:15
Poses Specific for CP, Down Syndrome, Sensory Processing
02:30 - 03:30
Lab with Postures
Delivery VIA:
Live On Tour - This course is now being offered live on locations throughout the United States.
Live By Request - This course is available to come to you! Contact us to see how easy that can be. mail@ciaoseminars.com
Live Stream - This course is offered from our Live Stream studio. Watch and interact with the instructor from wherever you are or join us as part of the studio audience in sunny Gulf Breeze, FL. Included with each Live Stream registration is access to the course recording for the 14 days immediately following the broadcast.
Contact hours pre-approved for:
6.5 hours
CIAO is an ASHA Approved Provider #AAWA (0.65 ASHA CEUs) bubble sheet required
CIAO is an AOTA Approved Provider #4119 (0.65 AOTA CEUs)
This course meets PDU requirements for NBCOT (7.8 PDUs - Clinical Lab Assessment)
CIAO is an Illinois Approved Provider for PT/PTA Continuing Education
CIAO is recognized as an Approved Provider for PT/PTAs by the NYSE Dept State Board for PT
This activity is provided by the TBPTE Accredited Prov. #2502009#TX
This activity meets the continuing competence requirements for PT/PTA license renewal in TX
The Physical Therapy Board of California recognizes CIAO Seminars as an Approval Agency to Approve Providers Offering Continuing Competency Courses
The Physical Therapy Board of California has determined that CIAO meets the standards set forth in section 1399.95 of the CA Code of Regulations
CIAO is a PT Approved Provider #BAP202310092 for the Oklahoma Medical Board. All PT courses for the 2022-2023 reporting period are approved.
CIAO is a Rule Approved Provider for the Florida Board of Physical Therapy
CIAO is an Approved Provider for the Florida Board of Occupational Therapy
Pre-Approved for:
6.5 Hrs PT/PTAs in CA(CIAO22-28), IL, MD, OK(#BAP202310092), TX (APTA TX #2502009#TX; 6.5CCUs)
6.5 Hrs. Registered with CEBroker for OT/COTAs in AL, AZ, GA, LA, MS, SC, TN
6.5 Hrs. Registered with CEBroker for PT/PTAs in AZ, GA, OK, SC, TN
7.5 Hrs. OT/COTAs and PT/PTAs in FL (CE Broker #20-660661)
7.8 Hrs. PT/PTAs in NY
Contact hours applied for:
Course meets requirements for:
PT/PTAs in AL,AK, AZ, CO, CT, DC, DE, GA, HI, ID, IN, IA, KS, KY, ME, MD, MA, MI, MO, MT,
PT/PTAs in NE, NH, NC, ND, OR, PA, RI, SC, SD, TN, UT, VT, VA, WA, WI, WY
OT/COTAs in AL, AK, AZ, AR, CA, CO, CT, DE, GA, HI, ID, IA, IN, KS, ME, MD, MA, MI, MN, MS, MO, MT,
OT/COTAs in NE, NV, NH, NJ,, NY, NC, ND, OH, OK, OR, PA, RI, SC, SD, TN, TX, UT, VA, WA, WV, WY
---

---
Intermediate Level
0.65 ASHA CEUs

---
The assignment of AOTA CEUs does not imply endorsement of specific course content, products, or clinical procedures by AOTA.

---
CIAO is recognized on the NBCOT Provider Registry (meets PDU requirements for NBCOT)

---
CIAO Automatically reports to CE Broker for Florida Occupational and Physical Therapists and Assistants. Florida SLPs can either use the ASHA CE Participant Form (Bubble Sheet) or self-submit through CE Broker.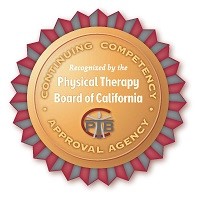 "Great course!"
- Live Streaming or Studio Audience, FL / Aug 2022
"Great course with fantastic videos that brought the information to life. Seeing the work in real time was invaluable. "
- Live Streaming or Studio Audience, FL / Mar 2021
"Great course! I was very inspired to take more courses on yoga and possibly get certified. "
- Live Streaming or Studio Audience, FL / Mar 2021
"This was by far one of my favorite live stream courses yet! Nancy was a fantastic and engaging presenter and taught the information in such a relatable and understanding way. I feel this format is better than Zoom in my opinion and I felt like I was a part of the studio audience. I can't wait to incorporate what I learned today into my daily practice! "
- Live Streaming or Studio Audience, FL / Mar 2021
"Nancy is an excellent instructor and her passion shines through her coursework! She provides a variety of therapeutic interventions that therapists can use during their treatment sessions. She has inspired me to incorporate many of these treatment strategies into my practice and I believe that my patients will greatly benefit from them! Thank you!"
- Live Streaming or Studio Audience, FL / Mar 2021
"Ms. Marin provided a wonderful presentation and I especially loved the YOGA lab! Thank you so much for sharing your knowledge with us! "
- Live Streaming or Studio Audience, FL / Nov 2020
"Thank you Nancy for such an informative course presented in a relaxed and enjoyable manner. I have worked in a pediatric school setting (24 years) as well as rehab and home care for a total of 36 years as a PT. All this background has helped me care for my mom who had a bilateral stroke 3 1/2 years ago. Thank you for sharing your experiences about your mom with us. (adult and pediatric references) I look forward to going on to your website. Sincerely, Karen Carbone "
- Live Streaming or Studio Audience, FL / Nov 2020
"Nancy was a fantastic presenter in so many ways. I was most pleased with how she did not just read off the slides but added extra useful information regarding each topic, even adding in personal stories to create a more welcoming community discussion. I am already a certified children's yoga instructor trained in modifying yoga for all abilities through the Asanas for Autism and Special Needs program, but I absolutely love how this course was instructed by Nancy as a practicing therapist for other therapists to explain specifics in alternative positioning or poses and the therapeutic-use-of-self in modifications. The videos were especially unique and helpful in fully understanding the variations because it is so much more helpful to see the yoga movements than just verbally explain!"
- Live Streaming or Studio Audience, FL / Nov 2020
"Loved it!"
- Live Streaming or Studio Audience, FL / May 2020
"The course seemed too long but I did learn some new information."
- Live Streaming or Studio Audience, FL / May 2020
"An absolutely awesome seminar!!!! Nancy (I know we haven't met but your presence and presentation were so engaging and sincere, I felt a connection with your passion for what you are doing!!!) Thank you so much for sharing your knowledge and expertise!! Information was well organized, with great videos and helpful resources. I have been up since 3:30 am today and your presentation was so great....I can't believe I am not fatigued!! Thank you, Lesley. I appreciate the efficiency of your staff. My questions were responded to in a timely, courteous manner. I was able to print out the course material without any glitches..video production was great!! A big MAHALO (Thank you!) to all!! "
- Live Streaming or Studio Audience, FL / May 2020
"Great course. Well organized and planned out. The group at the site made the day fun. Thanks everyone! Will definitely look at steaming other courses if possible."
- Live Streaming or Studio Audience, FL / May 2020
"This course was truly enjoyable. Nancy is knowledgable and personable even over a screen. "
- Live Streaming or Studio Audience, FL / May 2020
"Nancy did a wonderful job presenting and explaining the correlation between NDT and Yoga treatments and was inspirational in her delivery, use, and practice. "
- Live Streaming or Studio Audience, FL / May 2020
"thank you for showing poses in stand, sit and supine since each child's abilities are different so now we can adapt to the child"
- Live Streaming or Studio Audience, FL / May 2020
"Livestream format worked well for this class. Would like to see a class focused on use of yoga with adult neuro patients "
- Live Streaming or Studio Audience, FL / May 2020
"I love the heart and energy of this instructor and OT. I believe this can be adapted for any spiritual belief. I believe clients/children feel our energy and light as well. I follow a lot of Holy Yoga but I am sensitive to and respect others in any culture/belief. Thank you for this course. I also use to be a gymnast and gymnastics instructor before I was an OT. I often try to use any pose or gymnastics movement for sensory and motor concerns and develop new motor patterns. Always aiming to make things fun. "
- Live Streaming or Studio Audience, FL / May 2020
"Very enjoyable course content. Easy to access and very organized! "
- Live Streaming or Studio Audience, FL / May 2020
"Thank you for all of the adaptations as I have a new left hip and knee and right knee needs to be replaced so this helped me personally. I can use this for clients also. "
- Live Streaming or Studio Audience, FL / May 2020
"Thank you so much for the Live Stream! I am now a convert!!! This is only the second one I have ever done and I will absolutely do another. Nancy is fantastic. I am totally looking up more classes she teaches. "
- Live Streaming or Studio Audience, FL / May 2020
"Loved the videos with kids who needed modifications. These are so similar to my patients; so helpful!"
- Live Streaming or Studio Audience, FL / May 2020
"Thank you so much, so many great treatment ideas thank you!"
- Live Streaming or Studio Audience, FL / May 2020