Course Description

Pediatric feeding and swallowing involves a dynamic interplay of systems that work together for efficient, safe and enjoyable feeding experience for the infant or child. Feeding and swallowing skill acquisition is reliant upon stability in these other systems. By analyzing the characteristics and variables of these systems, the pediatric feeding therapist will be empowered to more appropriately treat the whole child and make the best gains possible for their patients. Come and learn how to analyze a few of these subsystems and walk away with interventions to help make the feeding experience more fun, safe and enjoyable for your pediatric patients. Current evidence based information will be discussed. Pictures and videos will be used to enhance learning.
Course Objectives
Upon successful completion of this course, participants will be able to:
1. Describe the typical development sequence of oral motor, feeding and swallowing skills
2. Appreciate the reliance of oral motor, feeding and swallowing skills to postural and developmental systems
3. Identify physiological factors that could impact feeding and swallowing skills in the pediatric population
4. List of at least 3 strategies to enhance postural support to maximize patient's ability to participate in activities and therapy
5. Discuss the importance of analyzing the integrity of both sensory and motor skills of your pediatric patient and their impact on dysphagia
6. State at least 2 treatment approaches for sensory dysfunction around swallowing
7. List at least 3 mandatory treatment variables to include in your pediatric treatment sessions to maximize treatment effect
07:30 - 08:00
Registration
08:00 - 09:00
Oral Motor and Swallowing Anatomy & Physiology
09:00 - 10:15
Oral Motor and Feeding Developmental Sequence
10:30 - 11:15
Assessment of Motor Systems & Impact on Feeding Skills
11:15 - 12:00
Assessment of Airway Competence & Postural Control
12:00 - 01:00
Lunch on your own
01:00 - 01:30
Assessment of Sensory System & Impact on Feeding Skills
01:30 - 02:15
Development of Treatment Plan
02:30 - 04:30
Interventions, Interventions, Interventions!
04:30 - 05:00
Partnering with Families and Medical Team
05:00 - 05:30
Questions & Answers
Delivery VIA:
Live By Request - This course is available to come to you! Contact us to see how easy that can be. mail@ciaoseminars.com
Contact hours pre-approved for:
<b>0.8 CEUs (0.8 Contact Hours) SLPs, OT/COTAs</b> (unless otherwise noted below)
CIAO is an ASHA Approved Provider #AAWA (SLPs)
This course is offered for 0.8 ASHA CEUs (Intermediate level, Professional area).
CIAO is an AOTA Approved Provider #4119 (OT/COTAs)
This course meets PDU requirements for NBCOT (8 PDUs)
CIAO is an IACET Approved Provider
---

---
The assignment of AOTA CEUs does not imply endorsement of specific course content, products, or clinical procedures by AOTA.

---
This course is offered for 0.8 ASHA CEUs (Intermediate level, Professional area).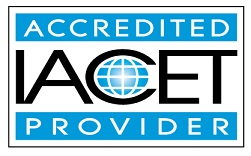 ---
CIAO is accredited by the International Association for Continuing Education and Training (IACET). CIAO complies with the ANSI/IACET Standard, which is recognized internationally as a standard of excellence in instructional practices. As a result of this accreditation, CIAO is accredited to issue the IACET CEU.

---
CIAO is recognized on the NBCOT Provider Registry (meets PDU requirements for NBCOT)
Reviews
This is a new course, there are currently no reviews. Please check back. Thank you and have a great day, CIAO!